King's Ridge
Thank you for making this community possible
Thank you for making King's Ridge possible!
We're excited to share that the King's Ridge Campaign construction goal has been surpassed! Thank you for your time, gifts, and support over the past nearly three years to this effort.  You've kept the faith with us as costs increased beyond what we could have imagined in 2019. We want to express our sincere gratitude for all you have done to make this community possible.
The Campaign for King's Ridge is an incredible public-private partnership effort to end homelessness for 100 households in Raleigh at a gold standard permanent, supportive housing community.
Ongoing fundraising for King's Ridge will go toward the first two years of operating costs as the community gets up and running and the Endowment.   The King's Ridge Sustainability Endowment at the North Carolina Community Foundation will provide critical staffing support and operational capital for King's Ridge for decades to come.
Please raise a toast to celebrate–and stay tuned for construction and housing updates for the remainder of the year!
Key Components
Access to permanent and affordable housing. Residents will pay one-third of their income for rent and can renew their lease year after year.
Minimal barriers to participation. King's Ridge will be home to single adults and families who live with disabilities, histories of homelessness, and insufficient credit to qualify for conventional housing.
Housing First model. This model recognizes the importance of stable housing as the first step in addressing other life challenges. Once housed, residents partner with case managers to determine which supportive services they need to increase long-term success in their new homes.
Comprehensive, accessible wraparound services. Residents at King's Ridge will have easy access to supportive services, including case management, employment assistance, mental health counseling, substance abuse treatment, childcare navigation, connections to public assistance programs, and other services to prevent evictions and ensure residents understand their rights and responsibilities as renters.
Personal voice and choice. Like a resident of a traditional apartment community, King's Ridge residents will sign a lease, have control over their own lives and schedules, and can come and go as they please. They can direct the array and intensity of services they receive by working with a service provider to set individual goals.
CASA's King's Ridge apartments will be named in loving memory of our longtime CEO, Debra King.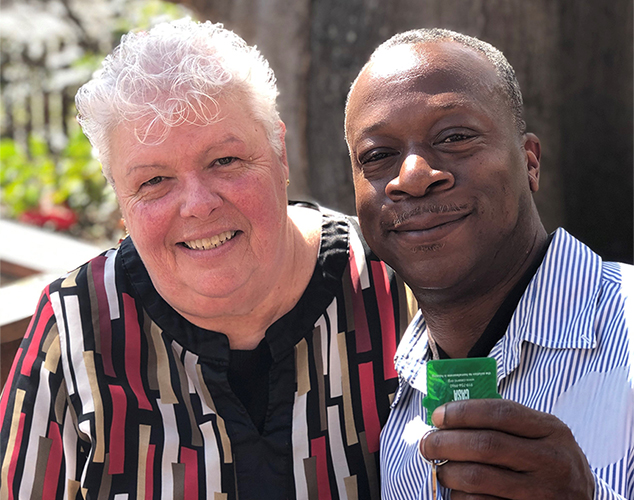 Who will live at King's Ridge?
Raleigh and Wake County desperately need more affordable apartments for both single adults and families. Ending homelessness for single adults leads to better health outcomes and more positive participation in the community. Ending homelessness for families with children disrupts a generational cycle of poverty and decreases the likelihood that children and youth who live at King's Ridge will experience homelessness as adults.
At King's Ridge, single adults and families will live in community with one another, just as they do in neighborhoods and apartment communities across the city. We envision King's Ridge as a vibrant community that meets residents where they are and is designed with supports for aging in place. The community will feature adult and child-friendly flexible spaces for counseling, meetings, and various activities.
How will residents be selected?
Our commitment is to end homelessness at King's Ridge. Updates about who should apply will be posted here and shared with project partners as the project progresses.
Can I refer a future resident for King's Ridge?
CASA will share the qualification requirements when the building nears construction completion. We understand that a number of our neighbors are already eager to submit applications, and we are committed to creating a clear process as soon as we can.
The Groundbreaking
CASA broke ground on King's Ridge on March 29th, 2022. This momentous occasion was an emotional celebration of two years of hard work with volunteers, elected officials and compassionate community members. We are thrilled to have reached this milestone in the community's construction! To read more about the event, visit our blog by clicking here.
The 'Fill it With Love' Gala
CASA's 'Fill it with Love' gala was held at the Umstead Hotel and Spa on November 17th, 2022. The event raised over $1M. Proceeds are being used to support the cost of quality furniture for each of the 100 units at King's Ridge, ensuring residents have the decency of a furnished, comfortable apartment. Special thanks to our incredible sponsors whose generosity made this event possible. Its not too late to give! Click here to make a donation
"I'm extremely excited about King's Ridge. I think that it can really provide an opportunity for us to demonstrate what is possible through community collaboration for our highest risk and most vulnerable homeless residents." 
Dr. Brian Klausner,
Medical Director of Wake Med Community Population Health 
"Access to affordable housing can change the trajectory of a child's life for years to come" 
Sharonda Ocean
Ocean Behavioral Healthcare 
"I picture King's Ridge as a community. There's going to be a beautiful community space there, to gather with people from the community. There will be medical services, mental health services, and case management. So whatever they need is right there." 
Molly Painter
Campaign Leadership Committee Chair 
"The King's Ridge project is precisely the type of ministry the Holy Michael Foundation was created to support. We look forward to seeing the project's impact on the lives of its residents."
Charlotte Griffin
Director of Development, Holy Michael Foundation
"Alliance supports the need for high-quality, affordable and supportive housing in our catchment area, particularly for individuals who are homeless or at risk of homelessness. We wish CASA success."
Rob Robinson
CEO, Alliance Health
"We are pleased to have the chance to work with and support CASA on the King's Ridge project. Their efforts to provide safe and affordable housing, health and employment services to all North Carolinians epitomizes the values and mission at the heart of the A.J. Fletcher Foundation"
Jimmy Goodmon, Jr. 
Board of Directors Member, A.J. Fletcher Foundation
"We are excited for the opportunity to partner with CASA to contribute to a place like King's Ridge, whose vision beautifully embodies Jesus's unequivocal command to love our neighbors, particularly those that society tends to overlook. We are eager to see the incredible impact this place will have on our community."
Lauren Miller Wieczorek
Miller Family Foundation
"King's Ridge will provide permanent housing and support for families moving out of homelessness in our community. Funding this type of tangible and supportive mission aligns perfectly with our goal at Bank of America to partner in efforts that work to solve systemic community issues from the ground up. As CASA and others continue their important work to address the affordable housing needs in our region, we remain committed to help reduce economic and racial inequality within the Triangle, with the ultimate goal of creating lasting change."
Kari Stoltz
President, Bank of America Triangle
"Wake Stone believes in King's Ridge's mission and supports it wholeheartedly. We have benefited from more than 50 years of supplying aggregate materials for the foundation of Raleigh's growth. A a corporate citizen, we believe it is important to give back to our communities. We are excited to participate in the King's Ridge project by not only providing necessary funding for construction but also aggregate materials for the facility's foundation. This project provides the critical resources necessary for our neighbors in need to make Raleigh a great place for all."
Sam Bratton
Wake Stone
"Baker Roofing is excited to be a part of this dynamic effort and applauds CASA and the King's Ridge team for bringing this type of project to Raleigh!"
John C. Matthews
Executive Vice President, Baker Roofing
"CASA is one of the few organizations dedicated to creating DEEPLY affordable housing. It takes incredible coalition building to create the funding to do what is otherwise nearly impossible. Gina and I wanted to be part of this significant effort with so many great partners, and we are so honored to do so."
Jim Anthony
APG Advisors
"Rhonda and I are delighted to be a part of King's Ridge and Debra King's vision to help end homelessness in our community. We have chosen to contribute because we have seen firsthand how the CASA staff and volunteers have worked diligently to improve the lives of others."
Lyle and Rhonda Gardner
King's Ridge Giving
To make a gift to support King's Ridge operations, visit our donation page or contact CASA's Director of Mission Advancement, Emma Doss, at (919) 307-3451. You can also see a list of King's Ridge donors who already contributed to this community. Thank you for your support!
News Updates and Press Releases